What constitutes a positive mindset? Does positivity even have any effect on how you referee a match?
The concept of positivity is often misinterpreted by many officials. Positivity is not a warm and glowing feeling. Positivity isn't just a concept either. Positivity is also not black or white, it's not a case of: "Either I am positive or negative."
You may not know the dictionary definition of positivity but you, without a shadow of a doubt, understand what negativity is and have experienced negativity numerous times in your refereeing career.
A recent study posed the following challenge around positivity:
"I tend to feel low even before I've blown the first whistle. I tend to be really negative when I'm out in the middle and put a lot of pressure on myself to get every decision correct. I work hard in the gym and I have been doing law refreshers but I'm not seeing the results I expected over the course of the season. How can I be more positive before, during and even after games?"
Your negativity stems from your expectations of achieving 100% accuracy in your decision making every game you officiate. Many things are not within your sphere of control in terms of the condition of the pitch, the attitude of the players and the way that the managers have told their teams to play.
Unrealistic expectations cause you to focus on outcomes and feel more pressure, even before the game starts.  
Your negativity affects you physically and mentally causing:
Shortness of breath, tired or low energy during the game
Indecision and sleepwalking into decisions
Slow reaction or hesitancy towards flashpoints
Mistakes (Incorrectly awarding fouls or being out of position)
Lack of communication with your colleagues
Low confidence out in the middle
Distractions and focusing on your self-defeating thoughts
Increased stress and pressure to perform or need to be perfect
Inability to deal with emotions
Difficulty rebounding from mistakes
Negativity is the tendency to be doubtful, sceptical, or self-defeating. Negativity expects the worst, things such as, bad mistakes or bad outcomes.
Positivity, on the other hand is the tendency to be upbeat, encouraged, or optimistic in attitude. Positivity focuses on the process and improvement. Positivity does not focus on stats or marks but on effort, focus, preparation and improvement. All these aspects of positivity contribute to consistent performances out in the middle.
From the perspective of players, positivity was the mentality for Manchester United throughout their recent 16-game unbeaten run. Manchester United forward Marcus Rashford recently spoke of his observations of how he and his teammates grew throughout the season.
"I just think there's a massive flood of positivity right now and momentum. For us, we want to keep that going. For the fans, sometimes the only time they get to see it is on matchday. You know as well as us that some match days they don't go your way. It can look like there's no progression, but 100% this team has been progressing since the start of the season. Where we are now, it's getting closer to what we picture but there's still a lot more work to do to be back challenging for the Premier League." – Marcus Rashford
It is easy to get caught up in the trappings of a focus solely on marks, just like spectators do of their team's result. That mentality keeps you moving back and forth from being positive and negative.
The best strategy to keep a positive mindset is to keep grounded in continued growth and improvement.
Maintaining Positivity as a Referee
Officiate in the moment. The time to analyse the accuracy of your decision making or the outcomes of your game is after you have blown the final whistle.
Implement positive practices. Instead of fearing negative results, use positive self-talk prior to the game. For example, "I will stay focused and positive during the game," "I am a talented referee" or "I am decisive on the field of play."
Be open to development. Work on watching more experienced and higher ranked officials to see how they operate out in the middle. Additionally, take advice from observers and coaches when they are evaluating your performance and seek to rectify the deficiencies in your refereeing, not even the number one official in the world is perfect.
At The Third Team I work individually and in collaboration with different professionals where I have developed workshops associated with Resilience and Mental Toughness Development to help referees. The workshops are interactive, where referees are encouraged to open up and share their experiences to help each other.
Feel free to contact me if you'd like to know more about my workshops and how I could help you or your officials.
Best Wishes,

Nathan Sherratt
Referee Educator & Managing Director of The Third Team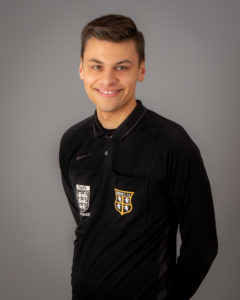 Nathan Sherratt, Referee Educator, Resilience Trainer and Managing Director of The Third Team.  A Mental Toughness Practitioner based in County Durham, North East England.