Does a Cup Final mindset mean referees officiate at a higher level in knockout competition?
When you think of a cup final mindset, you probably think of Howard Webb in the 2010 World Cup Final, Mark Clattenburg at the 2016 European Championships Final… or his excellent performance at the UEFA Champions League Final of the same year.
The knockout competition mentality has been characterised as raising your game to a new level or going all out in the cup competitions. This implies that those with a prestigious appointment mentality referee in cup games than they perform in the regular season.
The Perspective Of Those In Other Sports
For example, a softball player who has a playoff mentality is "expected" to hit higher than their regular season batting average. A hockey goalkeeper with a playoff mentality is "expected" to allow fewer goals in a playoff game than their regular-season goals-against average.
When you feel you need or are expected to perform at a higher level in Cup Finals, you put more pressure on yourself. This added pressure will lead to increased anxiety.
You might will think, "I have to referee better, or I will be demoted, fail or be embarrassed." These thoughts, feelings, and mental and physiological stress responses lead to underperforming or, even worse, choking.
Still, confusion exists around the term "Cup Final mindset."
As the Major League Baseball (MLB) side, the Chicago White Sox, head into the 2021 playoffs, their cup final equivalent, White Sox bench coach Miguel Cairo discussed the team's mentality and approach to each game.
"You try to play every game like it's the last game you are going to play. You want to beat anyone that is in your way. It's like every game is a playoff game from now on. You can get your mindset on what you want to do when October starts." – Miguel Cairo, Chicago White Sox Bench Coach
Shouldn't every competition have the same importance? Making the game "bigger" than it is becomes added pressure.
To officiate to a high level consistently during the season, you should focus on preparing intently each day, competition, or task at hand… And to succeed in a knockout competition, you should be focused on preparing each day, competition, or task intently at hand.
"You don't want to think ahead, but the way you play the game, the way your mindset is, it's like a playoff atmosphere, playoff mentality. You still have to do the little things to win games: Catch the ball, hit the ball. Just keep playing baseball." – Miguel Cairo, Chicago White Sox Bench Coach
Consistent mental and physical preparation and focusing on the little things were why Howard Webb, Mark Clattenburg, and Philip Don were consistent performers.
Refereeing consistently near your peak requires the same mental and physical preparation for EVERY game, whether it is in the league or cup.
Getting The Cup Final Mentality
A Cup Final mentality is not something you "have." A Cup Final mentality is something you work to achieve…
Building a knockout competition mentality starts with identifying the characteristics of peak performance or how you want to officiate when the stakes are high.
Next, how would you train if every prestigious appointment could be your last? Would you up your intensity? Would you want to enter the game with high confidence? Would you want to embrace the challenge of games extra to those you referee in the league?
One key is to be consistent in preparation for training, pre-season, league, and cup competitions.
At The Third Team I work individually and in collaboration with different professionals where I have developed workshops and 1-2-1 sessions associated with Resilience and Mental Toughness Development to help referees. The workshops and 1-2-1 sessions are interactive, where referees are encouraged to open up and share their experiences to help themselves and each other.
Feel free to contact me if you'd like to know more about my workshops or 1-2-1 sessions and how I could help you or your officials.
Best Wishes,

Nathan Sherratt
Referee Educator & Managing Director of The Third Team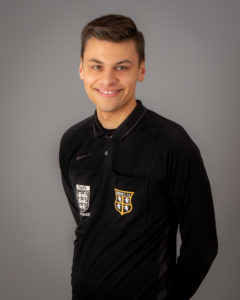 Nathan Sherratt, Referee Educator, Resilience Trainer and Managing Director of The Third Team.  A Mental Toughness Practitioner based in County Durham, North East England.