The beginnings of Mental Toughness as a key attribute in increasing performance and positivity can be found in sport.
I recently read an article where, former rugby player and current Cork Constitution RFC assistant coach Johnny Holland described the importance of the mental game for the top players and the fact "they keep going because, by their standards, they still have something to prove to somebody somewhere, not least themselves".
Some referees, like players have all the physical attributes, but can't keep up mentally. They turn up consistently with high standards but when you give your best performance it can take it out of anyone.
You were always told in your early career that there's very little separating most referee, but it's the mental side of the game that the top officials have and it takes a long time to understand what that means.
Anyone can blow a whistle, anyone can run, attend meetings and get their administration done. But raising standards and pushing yourself when you are training is the toughest thing to do.
Consider the season of a FIFA referee. They're often back in full training after only a couple of weeks break following the end of a season, so that they can be in optimal condition for international tournaments or the qualifying rounds of the Champions League or Europa League. It results in a curtailed pre-season where they have to hit the ground running to be at the standard expected of an international referee and officiate a few friendly matches before they referee in European competition.
Once the domestic season has started there are a clutch of games before the September international break is back, the Champions & Europa Leagues start again in mid-September, followed by another two international breaks before Christmas (which, in England brings it's own hectic schedule). The new year brings two domestic cup competitions being played simultaneously in addition to the league program before the Champions League knockout stage begins in February, and only then is it on to the business end of the season before its time to do it all over again.
After the first season of being an international referee, the next season can be difficult to maintain the level of consistency which you had in your officiating when your games were less frequent and you were travelling less. Quite often officials are carrying a few niggles through that season because they need to remain available and as a consequence don't get a chance to get back to full fitness.
They also aren't used to that type of workload over the course of a season. Physically and mentally this will affect officials, so it's not really a surprise when some referees struggle to maintain the level of consistency they previously had.
People would argue that they're paid well enough to be able to lift themselves for games and they would have a point, being professional allows referees the time and resources to prepare adequately for games.
But the mental toughness required for preseason, or the pre-preseason when nobody is watching, or at Christmas time when there is a glut of games and they could be on the road for 4 or 5 days at a time, is a mark of true professionalism.
Christmas is always an unusual time for those involved in professional football. Everyone else is downing tools for a couple of weeks, but football players and referees almost have to go up a gear at that stage to be at the level required of them while everyone else enjoys festive food and drink between Christmas and the New Year.
There's a lot of information and preparation that goes into a referee delivering a Premier League or international level fixture. They don't just turn up and blow the whistle. The level of detail expected of every official is immense and would warrant its own recovery, physical training aside.
"Top players keep going because, by their standards, they still have something to prove to somebody somewhere, not least themselves". I believe that the same statement is true of referees.
Of course there's a spring in their step and they've built a confidence from what they have achieved, but it only takes one bad game to break that confidence. The highs and lows of refereeing professional football are much greater than what we see as a public audience.
The hard work is done far from the television cameras, not between the stands of Premier League Stadia.
Top officials keep going because, by their standards, they still have something to prove to somebody somewhere, not least themselves. They deserve every success they get and work extremely hard for it.
Long may this success continue.
At The Third Team I work individually and in collaboration with different professionals where I have developed workshops associated with Resilience and Mental Toughness Development to help referees. The workshops are interactive, where referees are encouraged to open up and share their experiences to help each other.
Feel free to contact me if you'd like to know more about my workshops and how I could help you or your officials.
Best Wishes,

Nathan Sherratt
Referee Educator & Managing Director of The Third Team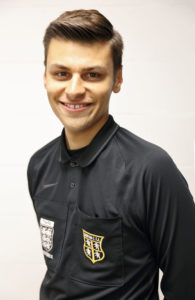 Nathan Sherratt, Referee Educator, Resilience Trainer and Managing Director of The Third Team.  A Mental Toughness Practitioner based near Durham, North East England.